Celebrating our collective story and song on the land 
with Jon Young
October 21 – 25, 2019 
Hawks Nest (Mid North Coast), NSW
Please note change of venue and location from Sth Australia to NSW
KIDS Program is now CLOSED for bookings
Final booking CLOSE ….. OCTOBER 10!!!! 
SOLD OUT
We welcome people of all ages, backgrounds, lineages, and orientations to gather for this family-friendly experience in honor and celebration of our collective story and song on the land — as one human family. 
Jon Young from the 8 Shields Institute, is an internationally renowned naturalist, master tracker and master storyteller, who has been exploring and teaching on the power of nature connection across cultures around the world for over three decades. Music, Nature, and Storytelling event is one of two immersion experiences Jon is offering this Spring, including Holistic Tracking.  
While each event stands alone as a powerful opportunity for reconnecting the threads of human culture and the wider natural world, these experiences are also training and preparation for the first Art of Mentoring gathering in Australia in 2020.  
More about Music, Nature and Storytelling ….. 
Storytelling and music are essential practices of nature connection. Whether we are recounting an event, sharing through music, or "catching" the story of another, storytelling as a practice broadens our perspective and helps us understand the significance of our experiences. As a mentoring tool, deep listening coupled with the art of questioning is a powerful way to expand a student's experience and inspire curiosity. 
Learn from Jon and your own experiences, insights into these and other questions: 
What is creativity and what activities bring it on best?

 

How can music

and/or storytelling

increase our connection to each other and nature?

 

What is the role of the storyteller's mind in

increasing our ability to expand consciousness and connection?

 

How we can use music and storytelling as a way to open our channels for communication with nature?

 
Come join us as we: 
Examine the roots of storytelling and how to activate the storyteller's

mind—in ourselves and in others—through the practices of music, story, and nature connection

 

Experience how the storyteller's mind engages all of our senses

 

Adventure out onto the land using the tools of deep nature connection, bird language, wandering and tracking. 

 
Explore the very powerful mentoring tool of listening to others' stories and following up with questions designed to inspire

 

Learn to catch the s

tories and songs of our own experiences in a way that reflects our unique cultural perspectives and that is respectful of other cultures

 

Sing, play, share, swap stories, have fun, eat well, and spend time around the fire

 
 We're so excited to share with you for a week of immersion in nature connection and mentoring practices, catching songs and stories, celebrating, dancing, reflecting, community building, and healing. The gathering will be facilitated by a team of experienced mentors representing a variety of life stages. As the week unfolds and relationships are built, you'll experience a tremendous spirit of village life.  
What might a day look like? 
Each day typically begins with a rolling breakfast followed by an all ages opening gathering with songs and stories to help us move into connection with the land and each other. Imagine children and elders dancing and singing in rhythm with smiles and laughter intertwined with the song of the land and the birds to start your day 🙂 
From there we'll sort into kid and adult groups for the heart of the day with age appropriate sessions for each group. Everyone will experience some version of the "Core Routines of Connection" to help us get in "tune" with nature and ourselves. 
The key experience for the week will be a core routine called "sit spot," in which you routinely visit a single location on the land and nurture a quiet mind so that music and creative expression can arise. We'll weave lots of fun and meaningful adventures, music and story-making in with the foundation of sit spot and build toward a culmination celebration at the end of the week. 
Each afternoon we'll follow nature's flow and the activities will be more focused on wandering, integrating and release. We'll gather again in the evening for a delicious and hearty meal followed by a very special campfire session each night for all to harvest and share the fruits of the day through story and song. 
Let's experience renewal together through music, nature, and story, you are welcome here!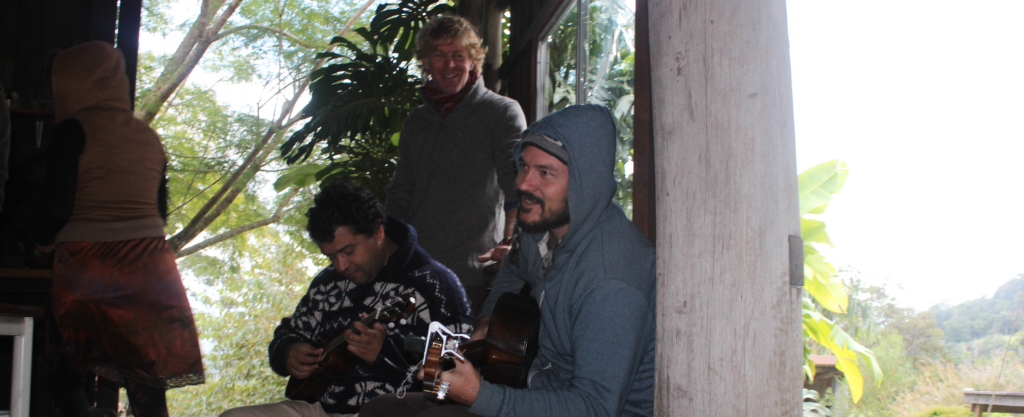 Also on offer will be a Children's Program: 
Youth (school ages 5-12) and Teen (ages 13-17) programs will run concurrently with Adult sessions during the day with evenings and most meals all together. Parents of young children (ages 4/5 and under) will be encouraged to create cooperative support among your cohort to allow a balance between adult sessions and time with your little ones.  
When: 21st to 25th of October, 2019 
Where: Hawks Nest, NSW (Mid-north coast)
Please note change of venue and location from Sth Australia to NSW
We apologise for any inconvenience this may cause and encourage you to make contact via the contact page.
Cost:
Early Bird (Limited Numbers) – $625
                  Early bird SOLD OUT
Full Price (select what works for you) – $675 or $725
Double workshop deal (with Holistic Tracking) – $1250
Child/Teen: $225
Contact us for

family rates

applicable to 2 adults and 2 or more kids.
Register and reserve your spot with a $200 dollar deposit
KIDS Program is now CLOSED for bookings
Final booking CLOSE ….. OCTOBER 10!!!! 
SOLD OUT!!!!
Program starts with registration between 3 -5pm on the 21st and ends with lunch on the 25th October. Registration includes camping accommodation and three wholesome meals a day, tuition and materials. You will need to bring your own camping gear.
A full list of what you need to know to attend will follow registration
Any questions contact us at: admin@artofmentoring.com.au